First of all, if you do not LOVE making muffin tin recipes, then you haven't made muffin tin recipes. I mean- there are websites DEDICATED to using these things for much more than muffins… even turning them upside down and making cookie bowls for ice cream. YES- you read that right! Cookie Ice Cream Bowls. Sweet Mary….
OK- so this recipe is similar to one that I did earlier with biscuits sliced in half and flattened. Laying them flat- adding cinnamon sugar AND nuts and putting them in a loaf pan….
But this little recipe gives you individual layered muffins that are OH SO GOOD! Using, of all things… french bread loaves… NEVER thought about that- but I am glad that they did! Check it out!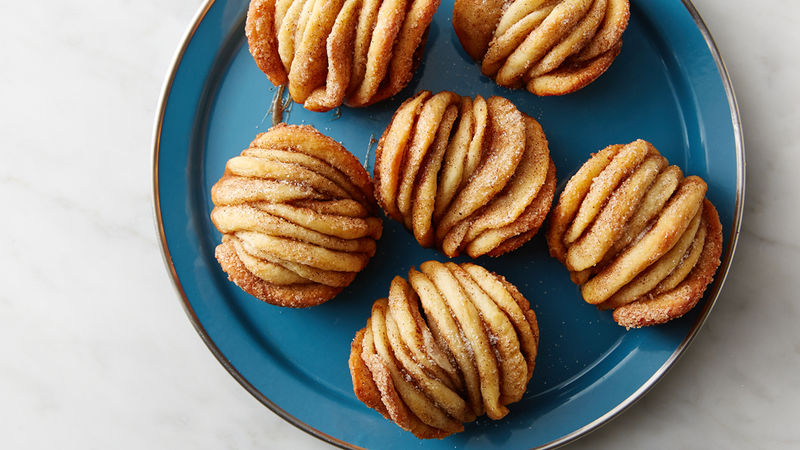 Prep    

15

 

MIN

Total    

35

 

MIN

Servings    

6
Layers of buttery cinnamon sugar goodness packed into a muffin. Can't get much better! 
Ingredients
1 can (11 oz) refrigerated crusty French loaf
Steps
1 Preheat oven to 350°F and spray a muffin tin with cooking spray.

2 In a skillet, brown the butter over medium-low heat for about 5 minutes. The butter will turn a caramel color and smell nutty. (Watch it carefully because it can quickly go from browned to burned.) Set aside to cool.

3 In a small bowl combine the sugar, cinnamon, and nutmeg. Set aside for later.

4 Open the bread dough and place on a cutting board. Using a sharp knife, make a small slit to score the dough at the middle point of the roll, so that there are two equal sections. Then score each section again in the middle. Repeat, scoring sections at the halfway point, until you have 31 slits in the dough. Using a very sharp serrated knife, slice the dough into discs using these score marks as guides.

5 Place all the slices on a large sheet of wax or parchment paper and flatten with a rolling pin. Brush each disc of dough with the melted butter. Dip buttered slices into the cinnamon sugar mixture. Add any remaining butter and sugar mixture to the prepared muffin tin.

6 Stack 5-6 pieces of dough on top of each other. Slice each stack in half and place both sections cut side down in a muffin tin. Repeat with remaining dough until all cups of the muffin tin are filled. (sprinkle extra cinnamon sugar on tops if you like- too much butter and they will NOT brown)

7 Place muffin tin onto a large rimmed cookie sheet to catch any sugar or butter overflow. Bake 20-25 minutes or until golden brown. Allow muffins to cool for 10 minutes in the pan and then enjoy!

8- for sugar OVERLOAD- and a cinnamon roll flash- add some glaze- but, for me, that was too much. They are plenty sweet just like this!
 ENJOY!!!