My daughters and I used to make something like this from an old Paula Deen recipe. It wasn't quite this creamy, but this one is OH SO GOOD!  It has Cream Cheese- which I can't tell the hubby-he hates cream cheese- but what he doesn't know…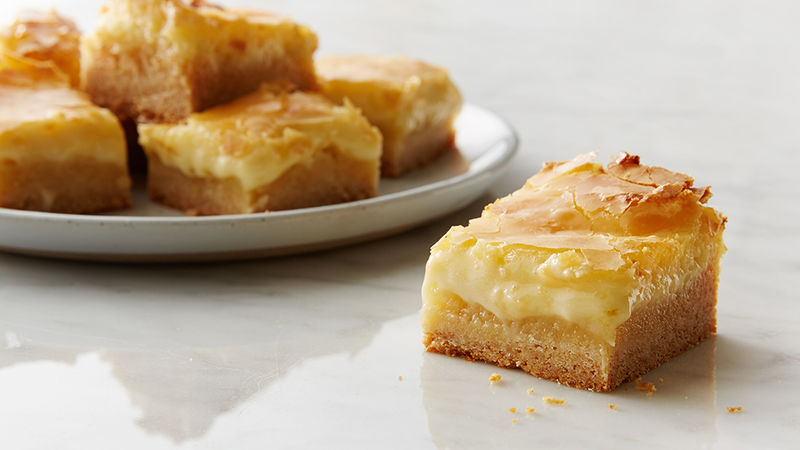 Prep     

15

 

MIN

Total     

50

 

MIN

Servings      

12
This famous St. Louis dessert starts with a vanilla butter cake base topped with a gooey cream cheese layer.  You can hardly wait for them to  cool completely before cutting them into pieces -but you HAVE to or they will fall apart! They smell so amazing right out of the oven…but they ARE worth the wait.
(Tip: for just the right amount of "gooey," make sure to use a 9×9-inch pan and not an 8×8.)
Ingredients
1 box (15.25 oz)  Cake Mix French Vanilla
1/2 cup (1 stick) butter, melted
1 pound bag (about 3-3/4 cups) powdered sugar
Steps
1 Preheat oven to 350°F. Line an 9×9-inch baking dish with parchment paper.

2 In a bowl, mix together the cake mix, melted butter and 1 egg until a soft dough forms. Press into the bottom of the baking dish.

3 In a stand mixer, combine together the cream cheese, 2 eggs, sugar and vanilla until smooth. Spread over the cake mix layer.

4 Bake bars for 45 minutes, or until edges are golden brown and the center has set to a soft consistency.

5 Cool COMPLETELY before slicing into bars and serving. (If not, it WILL fall apart!)
 ENJOY!