OH=MY=CHEEEESE….
If you know me… you know that, besides coffee, cheese is my NUMBER ONE WEAKNESS… If they created meat, cheese and coffee plates at parties, i would be in HEAVEN…
Grilled cheese squares and cheese balls… cheese dip and cheese roll ups…. SORRY- had a momentary cheese lapse….
When I saw this recipe, I KNEW I HAD TO TRY IT! I mean- Mac N Cheese and Ham- all in a slice like a cake… I even imagined a yummy cheese gravy to go on top… OK- am I going overboard??? OH WELL-
This is one of those recipes that, once you master the basics- you can EXPAND. Seriously! Shells and cheese- instead of ham- add some lobster for lobster mac- add some hamburger for burger-mac- add BROCCOLI for broccoli and cheese mac… the SKY is the limit! Use wheat macaroni, if you are into that kind of thing… use plain elbow noodles and add various cheeses… Did I mention I love feta? Some feta, a few olives… mozzarella… the only limit is your imagination.
But, if you are limited in your cheese vision, then just go ahead with the recipe below and ENJOY!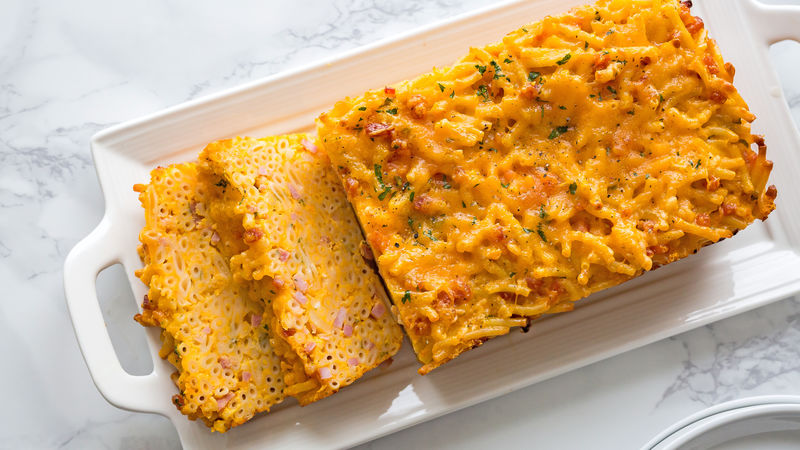 Prep time 

10

 

MIN

Total time 

60

 

MIN

Servings    

8 (unless you are serving me!)
Here is a fun twist to your boring powdered cheese speedy mac. Instead of a meatloaf, how about a Mac and Cheese Loaf???
Ingredients
2 boxes (6 oz each)  Macaroni and Cheese (CHEAP IS FINE!)
1 package (8 oz) diced ham
(any sandwich ham will do-chopped- this is a cheapo recipe remember)
2 tablespoons chopped parsley, divided
(Yes, you can use the stuff in the jar)
1 3/4 cups shredded cheddar, divided
(Better put 2 cups out if you are like me- you know you will eat the rest)
 Nonstick baking spray (with flour)
Steps
1 Preheat oven to 350°F. Spray a 9 x 5-inch loaf pan with nonstick baking spray.

2 Boil macaroni and cheese until tender. Drain excess water. Add butter and cheese  packets. Stir in ham, eggs, 1 1/2 tablespoons parsley and 1 1/2 cups cheddar.

3 Spoon macaroni mixture into pan.

4 Bake for 30 minutes, then top with remaining cheese and parsley. Continue baking for another 20 minutes.

5 Remove from oven and cool in pan for at least 15 minutes before slicing and serving.